Civilization III: Overview

System Requirements | Expansion Packs | Patch & Updates | Frequently Asked Questions
"How do you improve on perfection?"
There was lots of confusion over the sequel to Civilization II. Some players thought Alpha Centauri is the sequel, while others thought Civilization: Call to Power is Civ3. It was not unusual to see people ask "When will Civilization III be release?" in newsgroups and forums and get replies such as "I already have it!", "It's already out!", well before Civilization III was released.
The true sequel was developed by Firaxis Games and published by Infogrames / Atari . Civilization III was officially released on October 30th 2001 after two years of development. There are two editions at first: Collectors Edition and the Standard Edition. The Limited Edition comes in a very nice tin with the game, manual, a "Making of Civ III" CD, and a fold-out tech tree. The Standard Edition comes with just the game and the manual.
According to Jeff Briggs, President and CEO of Firaxis Games,
Our goal with Civilization III is to provide the most compelling and fun civilization experience ever! This game isn't simply about a face-lift or adding more "stuff" to the existing design. It's not even just about keeping and refining the good, addictive aspects of Sid Meier's Civilization I and Civilization II and combining those with what was new and innovative in Alpha Centauri - though this is a major thrust of our efforts. It's also about amplifying some previously unexplored areas of gameplay and enhancing some others in ways that give players more options and fun choices to build their empires the way they want to.
The Civilization III project was first announced in E3 1999 (May 14th). Firaxis released some impressive unit animations, concept arts, and in-game screenshots starting in January 2001. Many screenshots were also released thru gaming sites and magazines. You can find more than 150 high quality screenshots from the final version of the game in our Screenshots Gallery.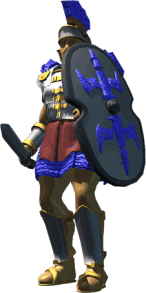 Here are the key features of Civilization III:
More interactions, alliances and realistic artificial intelligence responses put players in the middle of negotiations, trade systems and diplomatic actions. Advanced trade system to manage resources, trade routes and spread of technology.
Improved combat options provide finer levels of control for enhanced war-making capabilities.
Technologies, Wonders Of The World and Great People expand the scope of the game.
New elements of Culture, Nationality and the Arts help players plan a new peaceful pathway to victory.
Active world generator creates more realistic maps and organic terrain features.
Easier-to-use interface for streamlined management and better control.
For more details, please visit our Civilization III Info Center. The Info Center contains more than 30 pages of Civ3 information, all indexed by topics!
Expansion Packs
Civilization III: Play the World (PTW)

Civilization III: Play the World was released in late 2002 and is the first expansion pack for Civilization III. The key feature of Play the World was the multiplayer mode. In addition to multiplayer, PTW also added eight new civilizations (Arabs, Celts, Carthaginians, Spanish, Ottomans, Vikings, Mongols, and Koreans) and new game modes including elimination, regicide, and capture the flag. There are also new terrain graphics, new wonders of the world, and extra units (WW2, Dino, Medieval Japan).
The Play the World expansion pack is included in later Civ3 releases such as Civilization III Gold and Civilization III: Complete. The second expansion pack Civilization III: Conquests also contains Play the World.
Civilization III: Conquests (C3C)

Civilization III: Conquests is the second and the final expansion pack for Civilization III. It was published in 2003 by Atari. This expansion added seven new civilizations to the game, as well as including the eight civilizations from Play the World, bringing the total number of playable civilizations up to thirty-one. The new civilizations are the Byzantines, the Dutch, the Hittites, the Incans, the Mayans, the Portuguese and the Sumerians.
Two new special civilization traits are added: seafaring and agricultural. New governments (Feudalism and Fascism) have also been added to the game, along with new Wonders of the World such as the Statue of Zeus and the Mausoleum of Mausollos.
The main feature of this expansion however was the inclusion of eight scenarios (aka "conquests"). Unlike the epic game, these scenarios took much less time to play and focused on a specific period in history. Scenarios included in this expansion were Mesopotamia, the Rise and Fall of Rome, the Middle Ages in Europe, Mesoamerica, the Age of Discovery, the Napoleonic Wars, the Sengoku period in Japan, and World War II in the Pacific.
System Requirements
Windows:
Operating System:
Windows® 95/98/Me/2000
Processor:
Pentium® II 300MHz (500 MHZ recommended)
Memory:
32 MB RAM
Hard Disk Space:
400 MB free hard drive space
CD-ROM Drive:
4X Speed or higher
Video:
DirectX® 8.0a-compatible video card* (must be able to display
1024x768x16 bit)
Sound:
DirectX® 8.0a-compatible sound card*
DirectX:
DirectX® version 8.0a (included) or higher
* Indicates device should be compatible with DirectX® version 8.0a or higher.
Macintosh:
MacOS 8.6 or higher or MacOS 10.0.4 or higher
300MHz iMac G3 or better (500MHz preferred)
64M RAM for the classic MacOS (96M preferred), 128M for MacOS X.
500MB Hard disk space (650MB preferred)
Patch & Updates
Previews, Reviews, Interviews, & Related Articles
Discussion Forums @ CivFanatics
Frequently Asked Questions (FAQ)
Official Site
Civilization III: Multi-Team Demogame II
Never assume those you recruit know as much as you do.
In a nutshell, a Multi-Team Demo Game (MTDG) is
A game played with C3C or Conquests, patched to 1.22.
Played as a PBEM game.
With a common understanding of what is allowed and what is not allowed.
With no AI.
With humans only.
With some game parameters decided by the teams, some by the players as a group.
Grouped into different teams (some players come by recruitment of a team, others by luck of the draw).
Where each team has their own internal government (or lack of, if so desired).
And each team has their own separate forum for in-team discussions, that is private for that team (no snooping).
Where each team can be as truthful to the other teams as they see fit.
Where each team is to trying to out-play, out-wit and out-last all the others.
Unlike a Succession Game, where someone plays a few turns, posts the results, talk about the results and future plans and then another person does the same thing, in a MTDG each team plays their ONE turn in order, passing the save from team to team. At the end of all human turns the barbarians, if any, get their turn. The key is the one turn per team.
Which means everybody on the team can discuss the in-game situation at just about anytime for any turn.
Generic Team Positions
Each team will have someone called a Turn Player. Their job is to execute the desires of the team in the game. Turn Players have the joy and responsibility of playing the game. They have to get the saved game via email, play the turn, make the proper log entries (both for the world and their team) and then save the game and send it on the the next team.
Early on, the Turn Player is the most important person in the game. Once other civs have been met, Foreign Ministers or Ambassadors become important as they represent your team to the other teams you have met. They handle negioations and treaty making and are generally bringers of good will. They are not required to be truthful.
Internally, most teams have a position called Military Advisor that focuses on the military strength, positioning and strategy. And a Domestic Advisor that oversees city production orders, worker allocation and the treasury.
Internal Team Structure
Some teams have no formal internal structure. They tend to let people gravitate towards positions and things they like. Other teams do have a formal structure, holding elections for their own set of internal and external offices on a regular basis. Which means that the Turn Players on Turn 0 may all change by Turn 100.
Most teams do have a formal structure, patterned on earlier Democracy games. In those games, one team (the Democracy) played the AIs.
In this game, each team determines their own structure, but are considered 'Democracies' even if they have no structure (after all, they had some sort of vote or decision making process to determine their structure!)
So What Can a Newbie Do?
Anything.
Just because a person has a position in the team doesn't mean they have all the answers. Some players are very methodical but not very creative in how they handle in-game issues. Others may be brilliant with their ability to wage war but can't keep the workers busy.
And most of all, sometimes they become too focused on a particular plan that they don't see any other options. And it may take a newbie to ask the all-important question of 'Why?' to wake them up.
If the team has elected positions, the current leadership may need to change due to something called Real Life (bills, work, families, etc), which opens up a chance for the new person to have some responsibility on how the game is played.
All of Which Means
First, this ain't your normal game of Civ. No way. You're playing against people that are just as sneaky and underhanded as you are AND you are trying to beat them fair and square (well, mostly fair and square).
Second, you don't have to be a great Diety player to be on a team or hold a position in a team. In fact, that could be a real handicap, 'cos the AI has a limited role (barbarians only) in this game.
If all you have is vanilla or PTW, you can still be on a team. You could not be the Turn Player, since that does require C3C, but a lot of vanilla and PTW still works in C3C. Building workers and settlers is not something that Conquests invented, and talking to people started a long time before this franchise began.
You really ought to sign up now, even if the game has already started. It is never too late to join.