Convert Your Civ2 Version to Civ2 Gold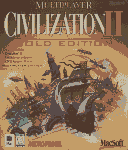 Editor's Note: This is great news for players who own Classic Civ2 or Test of Time. Now you can "convert" your version of Civ2 to Civ2 Gold by downloading the patches created by Cedric Greene! The upgrade process is very simple.
After you've converted your version to Civ2 Gold, you can play all those GREAT scenarios in the Downloads Collection, play Game of the Month, and compete on our multiplayer tournament ladder!
---
A NEW Patch?!?
Well actually two new patches. I have taken files that were created on my computer (NOTHING was taken directly off of a disk) and picked out the ones needed to create a patch to upgrade "classic" Civ 2 to either Fantastic Worlds, or Multiplayer Gold Edition. The patches are very similar to the "officially" released 2.42 patch for classic Civ 2 in that they are just .zip's that need to be unzipped to your Civ2 directory.
The Differences:
Fantastic Worlds Pros:

Easy scenario creation.
Easy Unit graphic editing.
More spaces for "homemade" units.
Huge amount of available scenarios.
Small patch
Fantastic Worlds Cons:

Still no multiplayer.
MGE Pros:

Contains almost all benefits of Fantastic Worlds add-on
MULTIPLAYER!
Much larger events file for scenarios.
MGE Cons:

Extremely hostile AI
A bug in programming disallows higher scores for different cities in scenarios.

A civ 2 cd must be in the cd-rom while playing, this can be any civ 2 cd-rom such as "Classic", Conflicts in Civ, Fantastic Worlds, MGE, or ToT.

English only, no German or French included in MGE release.
Extremely LARGE patch, so much so it needed to be broken into five pieces.
Directions:
First download the patch you want (If you have ToT you should not have to download the first two parts of the MGE patch). Then unzip (using an unzipping utility such as WinZip) the files to the directory in which your version of Civ II resides (by default usually C:MPSCiv2). The next time you start a game you should see the difference. All files go directly into the Civ2 folder and if prompted to overwrite existing files yes to all. Click on the link to download:
Disclaimer:
First off, thanks to Andu Indorin for telling me the MGE patch didn't work, it had better now! BACKUP all files that are going to be replaced, I don't want to here about your precious custom tribe or some cheat you had put in that was overwritten when you replaced the files. READ the readme.txt included with the file(s) you downloaded. I am not liable for any problems you have with your Civ game, I have tested these files and they worked on a "clean" install of Civilization II 2.4.2 and Civilization II 1.0. DO NOT CONTACT ME WITH PROBLEMS RELATED TO INSTALLATION OR RUNNING OF THE PATCHES, if you cannot follow directions then you are too stupid for me to deal with as I have little patience.
All copyrights and trademarks including but not limited to Microprose, Hasbro Interactive, Infogrames, Sid Meier's Civilization, Civilization II, Fantastic Worlds, Multiplayer Gold Edition, Test of Time, and CivNet are owned by there respective holders.
---
We encourage you to visit Cedric's Civilization II Page for more info and see the latest updates.