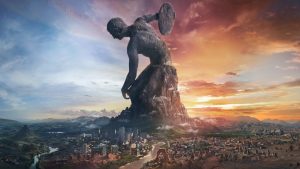 2K and Firaxis Games today announced that Sid Meier's Civilization® VI: Rise and Fall, the expansion pack for the 2016 award-winning strategy title, is now available for Windows PC. Sid Meier's Civilization VI: Rise and Fall is already receiving critical praise, with PC Gamer saying it is, "a great addition to Civilization VI", along with Polygon awarding it a score of 9/10 and calling its all-new features, "welcome innovations for a storied strategy epic".
Civilization VI: Rise and Fall builds upon the critically-acclaimed gameplay experience of Civilization VI giving players new choices, strategies, and challenges as they guide a civilization through the ages. The expansion introduces new Golden Ages and Dark Ages, a new city Loyalty system, and Governors who can be stationed in players' cities. Civilization VI: Rise and Fall also adds nine new leaders and eight new civilizations, including returning fan favorites Shaka leading the Zulu and Genghis Khan leading Mongolia, alongside newcomers in a Civilization game for the first time such as Queen Seondeok leading Korea and Robert the Bruce leading Scotland.
"Firaxis Games has an impressive track record of delivering innovative and extensive expansions that dramatically impact the player experience while adding robust replay value," said Matt Gorman, VP of Marketing at 2K. "Civilization VI: Rise and Fall is no exception, offering new narratives and upgraded gameplay systems that will challenge players throughout their journey."
"Rise and Fall expands the foundation of Civilization VI, adding exciting new ways to reinvent human history," said Anton Strenger, Lead Designer at Firaxis Games. "Whether you're discovering the new Golden and Dark Ages, fostering the loyalty of your cites, or meeting heroic new leaders for the first time, Rise and Fall offers players exponential opportunities as they guide a civilization through the ages."
Key features for Sid Meier's Civilization VI: Rise and Fall include: 
GREAT AGES: As your civilization ebbs and flows, and you reach milestone Historic Moments, you will experience Dark Ages or Golden Ages, each providing specific challenges or bonuses based on your actions in-game. Rise triumphantly from a Dark Age, and your next Golden Age will be even stronger – a Heroic Age.
LOYALTY: Cities now have individual Loyalty to your leadership – let it fall too low, and face the potential to lose your city to its own independence. One civilization's loss can be your gain as you inspire Loyalty among Free Cities throughout the map and further expand your borders.
GOVERNORS: Recruit, appoint, and upgrade powerful characters with unique specialization bonuses and promotion trees to customize your cities, and reinforce Loyalty.
ENHANCED ALLIANCES: An enhanced alliances system allows players to form different types of alliances and build bonuses over time.
EMERGENCIES:  When a civilization grows too powerful, other civilizations can join a pact against the threatening civilization and earn rewards, or penalties, when the Emergency ends.
TIMELINE: Review your civilization's history at any time with the new Timeline feature, a visual journey through the Historic Moments that you encountered on your path to victory.
NEW LEADERS AND CIVS:  Nine leaders and eight new civilizations are introduced. Each brings unique bonuses and gameplay, as well as a total of eight unique units, two unique buildings, four unique improvements, and two unique districts.
NEW GLOBAL CONTENT: Eight new world wonders, seven natural wonders, four new units, two new tile improvements, two new districts, fourteen new buildings, and three new resources have been added.
IMPROVED GAMEPLAY SYSTEMS:  The Government system has been enhanced with new Policies and additional improvements have been made to existing systems.
Sid Meier's Civilization® VI is rated E10+ for Everyone 10 and up by the ESRB, and is available now on Windows PC. Sid Meier's Civilization® VI is also available on iPad, Mac and Linux by Aspyr. Sid Meier's Civilization® VI: Rise and Fall is available now for Windows PC, and will be available soon for iPad, Mac and Linux by Aspyr.
>> Buy the expansion pack from Amazon
>> Discuss the expansion pack on our forums!