ENGLISH CITIES
1. LONDON
2. COVENTRY
3. BIRMINGHAM
4. DOVER
5. NOTTINGHAM
6. YORK
7. LIVERPOOL
8. BRIGHTON
9. OXFORD
10. READING
11. EXETER
12. CAMBRIDGE
13. HASTINGS
14. CANTERBURY
15. BANBURY
16. NEWCASTLE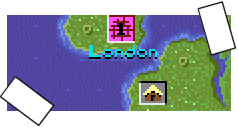 CAPITAL CITY: LONDON.

ELIZABETH I
QUEEN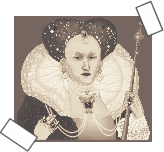 QUEEN OF ENGLAND FOR 45 YEARS, SHE INHERITED A STRIFE-TORN, FAILING NATION AND BUILT IT INTO A FIRST-RATE EUROPEAN POWER. HER MAIN ADVERSARIES WERE THE SPANISH UNDER PHILIP II, WHO WENT INTO A STEADY DECLINE AFTER THE DEFEAT OF THEIR ARMADA IN 1588. ELIZABETH WAS KNOWN FOR IMPORTANT DOMESTIC REFORMS AS WELL AS SHREWD DIPLOMATIC AND MILITARY MANEUVERS. HER REIGN WAS MARKED BY A GENERAL FLOWERING OF THE ENGLISH ECONOMY AND CULTURE. SHE PRESIDED OVER THE BEGINNINGS OF THE BRITISH EMPIRE, NOT QUITE LIVING TO SEE THE ESTABLISHMENT OF THE ENGLISH COLONIES IN NORTH AMERICA.



THREAT REPORT







THE ENGLISH ARE A SERIOUS THREAT (4/6). THEY WILL EXPAND, AND WHEN IT COMES TO EXPANSION BY SEA, THE ENGLISH PRACTICALLY WROTE THE BOOK. ONCE YOU DEVELOP SHIPS YOU CAN EXPECT TO FIND THAT THE ENGLISH ALREADY CONTROL THE OCEANS. ON LAND, THEIR ARMIES ARE COMPETENT AS WELL, SO DON'T LET YOUR GUARD DOWN FOR A SECOND.