INDIAN CITIES
1. DELHI
2. BOMBAY
3. MADRAS
4. BANGALORE
5. CALCUTTA
6. LAHORE
7. KARACHI
8. KOLHAPUR
9. JAIPUR
10. HYDERBAD
11. BENGAL
12. CHITTAGONG
13. PUNJAB
14. DACCA
15. INDUS
16. GANGES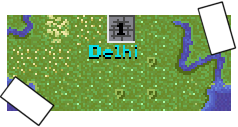 CAPITAL CITY: DELHI.

MAHATMA KARAMACHAND GANDHI
PRESIDENT

THE FATHER OF INDIAN INDEPENDENCE, HE WAS A SKILLED POLITICIAN AND SPIRITUAL LEADER. HIS CAMPAIGN OF PASSIVE RESISTANCE WORE DOWN THE BRITISH AND AFTER WORLD WAR II HE WAS AN IMPORTANT PART OF THE INDEPENDENCE NEGOTIATIONS. HE WORKED TIRELESSLY FOR AN END TO THE CASTE SYSTEM IN INDIA AND FOR PEACEFUL CO-EXISTENCE BETWEEN THE TWO GREAT RELIGIOUS GROUPS OF THE NATION, THE HINDUS AND THE MUSLIMS. HE WAS FATALLY SHOT BY A HINDU FANATIC WHILE ON A PRAYER VIGIL FOR PEACE.