Again if you would like to try your own skills at this developing this start position you may download the exact map that was used for GOTM8 with all the civilizations and barbarians located in the same opening positions. Click here for the instructions to download the GOTM8 start positions replay scenario.

Carefully playing a game of "catch up"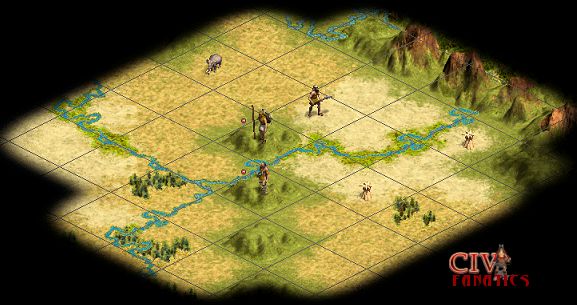 Moving the settler puts us one extra turn behind in almost every area. Our rivals will look at the power position of our civilization and tend to make decisions that might be classified as a bit more aggressive. In most cases, the relocated settler move will increase the chances that we may receive early extortion demands from other civilizations. Also we can look at the early settler move as potentially reducing the distance between our civilization and some of our neighbors while increasing the distance to other neighbors. One square of movement may not seem like much but one square out of to or one square out of twelve, amounts to about a ten percent increase in the chance we may be involved in an early conflict.
We want to really look closely at the order in which we ask our worker to complete tasks because making use of every possible unit of gold, food, or shield production is critical to our success. If we can make strategic use of "pop rushing" to gain one extra unit or improvement in every 15 to 25 turns of play, that will help us regain a competitive position in the game.
Here is a timeline of this sequence of events:
Key Events

BC Yr

Turn

Pop

Worker Task

move settler

4000

1

start irrig

irrigate

Moscow on Hill

3950

2

1
1
1
1

3850

4

3700

7

road

3650

8

to P+ west

3550

10

2
2

mine

warrior and expand

3450

12

3400

13

rush spear
A
A
A
A

1
1

spearman 1

3350

14

3250

16

2
2
2
2

road

3200

17

3150

18

move to FP

3100

19

A
A
A
A

move to FPw

3000

21

3
3
3

irrigate

2900

23

2800

25

road

settler 1

2750

26

A
A

2
2
2
2

2710

27

to FP north

micromanage food
micromanage food

2670

28

A
A

road

2630

29

2590

30

A
A
A

3
3
3

2550

31

move to P+

2470

33

road

2430

34

4

2390

35

4

move to PIv

settler 2   mmf

2350

36

2

road

2310

37

rush spear
B

1

spearman 2

2270

38

2

 (spear to settler)

2230

39

short rush
BC

1
1

mine

2150

41

micromanage food
micromanage food

2110

42

BC
BC
BC
BC

2
2
2
2

2070

43

(false war starts)

2030

44

1990

45

To FP w rd

settler 3
(massacre 5 brave but very stupid English
warriors 1910-1830)

1950

46

BC
BC
BC
BC

1
1
1

irrigate

1910

47

1830

49

1790

50

2
The orange text areas indicate where two happiness penalties exist at the same time. This double penalty can be balance on the monarch difficulty level by having one luxury connected and keeping at least one military police unit in the town as long as the population is held to less than four pop points.
Note that the sequence of events includes a "false war" that begins somewhere around the year 1990 BC when the English attack our civilization. This is a false war because it occurs in the example because we have not used our settlers to found new towns and increase our power and territory. We should note that this is also a fairly stupid war, because the English attack us with five warriors who all get totally annihilated by our stronger defensive units located on hills or behind rivers. In the image below, you can see that our military units basically just get promoted to a more powerful level while the English military gets wiped out.

The timeline shown above includes a special technique known as "short rushing" that can be used to speed production while adjusting the timing of the completion event and making maximum use of existing production quantities.
Short Rushing is a technique where you set the production queue to build a unit or improvement that has a production cost that is "short of" the total production amount you really wish to complete. Then you rush this shorter objective to completion and switch the full production balance over to apply to the higher objective.
In this case, we waited until we had one shield in the production bin and then pop rushed the balance full to support completing a spearman. This rush converted one citizen into 19 shields and left our production bin totally full with 20 shields. We then switched the production queue over to build a settler which left the 20 shields in the production bin but left an additional 10 shields open to be filled by the production in subsequent turns.
Timing this "short rush" event to coincide with a time when we would have a larger number of military police present would give us more flexibility to balance the unhappiness associated with pop rushing. The timing also lets us synchronize the unhappiness with a time period when our population is low while maximizing our effective growth rate that will let us recover the citizen's worth of population in the fewest possible turns.

Summary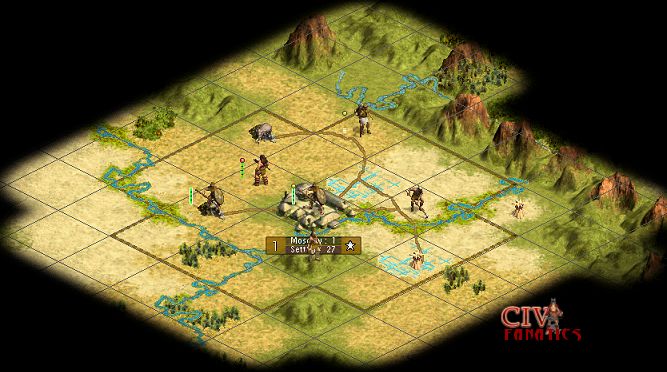 The image above shows the units in 1830 just after the last English warrior has been slaughtered. Note how one of our spearmen is fortified forward on a position to protect the mine and road on the plains square. This unit benefits from the added defense bonus of the river as well as being fortified and can still move back into our capital city and fortify to meet any threat that might appear.
Moving the capital city onto the hill effectively opened up smooth movement access to all the squares surrounding that hill. With road mobility and staying north of the rivers, our units can move freely into any square of our territory all within a single turn. We still have a movement penalty duw to the river when we have to send our units to the south but our strategic position analysis of the world map tells us to expect contact with our rivals from either the west, north, or east map directions.
Our total position in this relocated settler position scenario allows us to easily defend against an attack by five English warriors while still completing three settlers and fifty shields worth of military units approximately by the key comparison year of 2030BC.
If we look to compare how we played this starting position to the other examples:
Example Starting Sequence

next output

capital status

1 warrior


1 settler

settler in 3

large unhappy dying population (6)

1 warrior
1 spear

2 settlers

settler in 1

pop 3 and growing in 2

1 warrior
1 spear

2 settlers

settler in 3 with
four pop rushes

Tiny, unhappy, ties up military

1 warrior
1 spear

3 settlers

spearman in 1

small, minimal unhappiness

Flood Plains by relocating/balanced rushing

1 warrior
2 spears

2 settlers

settler in 2

small with some unhappiness
Relying too heavily upon "pop rushing" can cripple progress and even then it does not allow you to keep pace with more balance production approaches. If you automate your worker tasking and rely on the AI programming to make these critical decisions, your results will be severely reduced compared to almost any informed approach that uses your knowledge and decision skills.
In most cases, we should not consider moving our initial settler, but if we apply our key tactical skills of assessing and improving the power terrain to maximize the productivity of our starting location we can decide whne the move might be a good idea while still allowing us to approach an optimum starting result.

Other related topics:



Discuss this article/ask questions on Opening Play Sequences in the Forums - - hosted by CivFanatics



Compare your opening play skills to other players in a Quick Start Challenge - hosted by CivFanatics



Cracker's unofficial CIV3 skills toolbox - some favorite tips and tricks



Support information - copyrights and usage, link to this site, how images were prepared