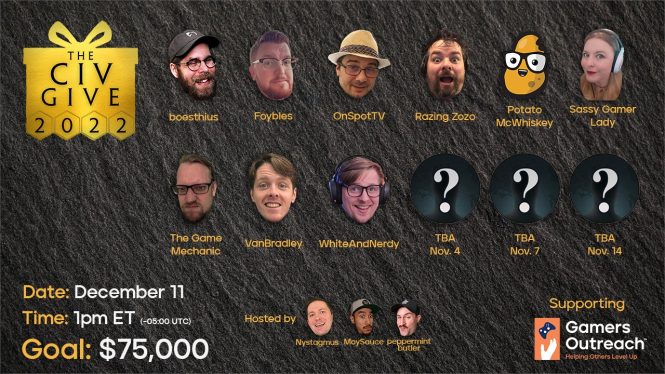 The CivGive is a charity event, organized by various Streamers around TheCivShow.
Last year the team managed to raise $42 000 for extralife, and $25 000 were matched by 2K Games.
This year the team will be aiming at $75 000 in total, to contribute to GamesOutreach.org, which helps hospitalized children through games to make ther life in the hospital a bit better.
The Civ6 multiplayer live stream for the event and surrounding activities will happen on December 11, 1 PM Eastern Time.

Right now we know that the following streamers will participate in this giant MP match:
Announced on Nov 4
Announced on Nov 7
Announced on Nov 14
The event is hosted by Nystagmus, Moysauce and PeppermintButler.

We hope that also CivFanatics will do their share to reach the 75 000, and we hope that this will again be an enjoyable event!