War is a matter of vital importance to the state; a matter of life or death, the road either to survival or to ruin. Hence, it is imperative that it be studied thoroughly. — Sun Tzu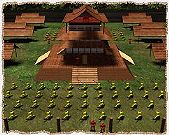 Welcome to the War Academy, generals! This Academy is dedicated to strategy and tactics for Civilization II. Although military strategy is our focus here, you will also find strategies for economy and science that will help you wage a successful military campaign.
To graduate the Academy, you are required to learn the following arts of war in this sequence:
The Strategy & Tips forum has lots of great tips not mentioned in the Academy. So be sure to check it out!
End of Training! You now have what it takes to be an expert Civ2 player. We encourage you to compete in our popular Game of the Month feature to test your skills.