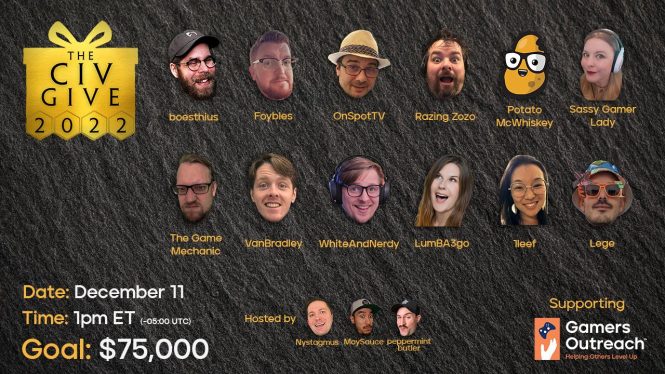 The CivGive is a charity event, organized by various Streamers around TheCivShow.
Last year the team managed to raise $42 000 for extralife, and $25 000 were matched by 2K Games.
This year the team will be aiming at $75 000 in total, to contribute to GamesOutreach.org, which helps hospitalized children through games to make ther life in the hospital a bit better.
The Civ6 multiplayer live stream for the event and surrounding activities will happen on December 11, 1 PM Eastern Time.

The following streamers will participate in this giant MP match:
The event is hosted by Nystagmus, Moysauce and PeppermintButler.

We hope that also CivFanatics will do their share to reach the 75 000

, and we hope that this will again be an enjoyable event! If you want to discuss TheCivGive2022 with us, then head over to the forum here.