Civilization II: Game of the Month
Game of the Month 141: March 2013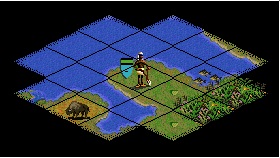 Game Settings:
Civilization: Persians
Map: Small; 3 civ's, round
Difficulty: Emperor
Barbarians: Roving Bands
Restarts: On
Victory by spaceship or conquest
Starting Techs:
~ None
This time a small (40×50) round game-generated map with the following characteristics: small land mass, archipelago, normal climate, temperate temperature, old in age.
My experience shows that the map generator creates just one large continent at smaller map sizes. I picked small land mass and archipelago to partially offset that, however, we are still quite likely to get one big continent. Also, at smaller sizes the map generator creates a higher than usual amount of mountains. Have fun.
Games will be due on April 22th, 2013.
Please be sure to follow the submission guidelines when submitting your game (please do not send your files in a .zip file. Attach them directly to your e-mail with your name in the save file).
Please sent the savegames only to civ2gotm@gmail.com.
Have fun.