There are those who play civ3, that like to have very large cities, and play on very large maps, such as myself. We are the people who just like to play to have fun, and have every improvement in every city. We are the people that others refer to asthe 'builders'. What I have done here is list some strategies (with screenshots)that works great for me on huge maps on Chieftain, Warlord and Regent Levels. I have learned some of these strategies by my own gameplay, but a great deal of credit goes to advice I got from the message boards at civfanatics.com. Some of these strategies may work on smaller maps, but I like the Huge maps because you are allowed more flexibility in constructing your empire. With several large cities, you can control your own destiny after you enter the industrial age. Just click on one of the main topics below to start the tutorial. I used a game playing as the Russians on Regent level with v1.17f for this tutorial.
Index:
Playing on Huge Map
---
A. Playing on Huge Map
1. When to start building Wonders
This is often a tricky situation. You must know when to stop having your capital building settlers and start building the Great Wonders. In this case I decided to take my chances and build one more settler, then start on the Pyramids (after building a temple). Since the capital is on a river I can get up to a size 12 city without an aqueduct. You need a worker or two, working on the capital's terrain, so it is at maximum production. You can also send a couple of settlers from nearby cities to 'join' the capital to boost population, thus producing more shields. You may need to boost your entertainment expense to allow more citizens to work, and of course get access to any luxuries you can.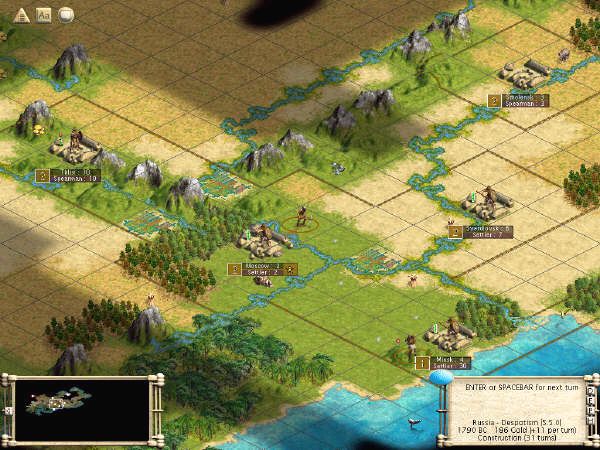 2. Be Wary of Early Wars!
Hmmm…why are 4 English warriors approaching my territory? They are not at war with any other civ and are not my neighbors (except across the sea). They had to go through Aztec and Indian territory to get to me, so they are up to something. Declare war on them, get India, Aztecs as allies, soon the warriors turn around to take on some Indian units nearby instead of my undefended city (although I did pop-rush a spearman, just in case). Usually you want at least 2 defenders in all cities, but I was gambling and left a few undefended until I was done expanding.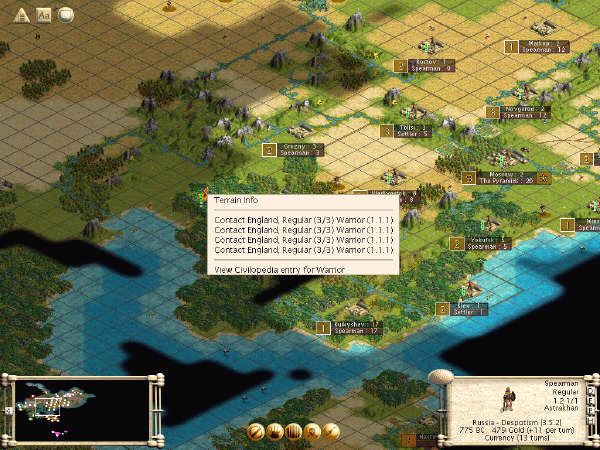 3. Know when to stop expanding and start on infrastructure
In this game, I was completing the third ring of cities using the optimal city placement strategy, when I had to literally tell myself STOP EXPANDING! I could have built a few more cities, but they would have been so far from the capital, that it would take a long time (and many improvements) before they would be slighty productive (and most of the time you will only get 2 rings of cities instead of the 3 like I did). An extra city or two beyond your 'rings" of cities will only help if they will supply a luxury or strategic resource, If you spend too much time trying to expand, the infrastructure of your core cities will suffer. Decide how much land you want, claim it, then build improvements. I usually build settlers and spearman until I have all the land I want, then make sure that every city will have 2 spearman, then make sure I have at least 1 worker/city (depends how fast you want the terrain developed and whether or not you are industrious), then start on improvements.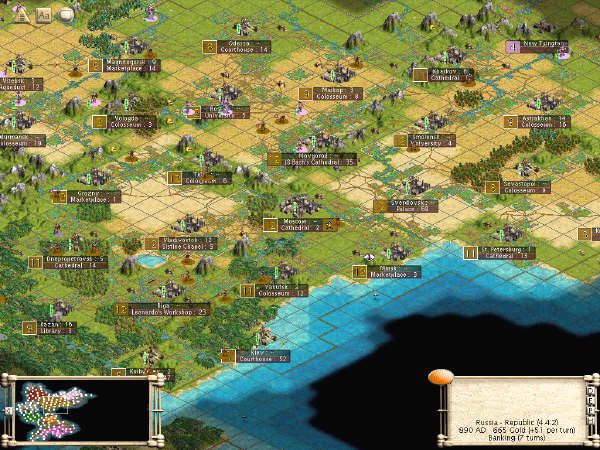 4. Massive Border
On a huge pangea map, it is not uncommon to share a very long border with another civ. This is where those powerhouse cities really help (running at maximum efficiency), so you have tons of cash to supply a Gigantic army needed to take out the Chinese. Note: there are 3 more Chinese cities to the north I border that is not on the screen.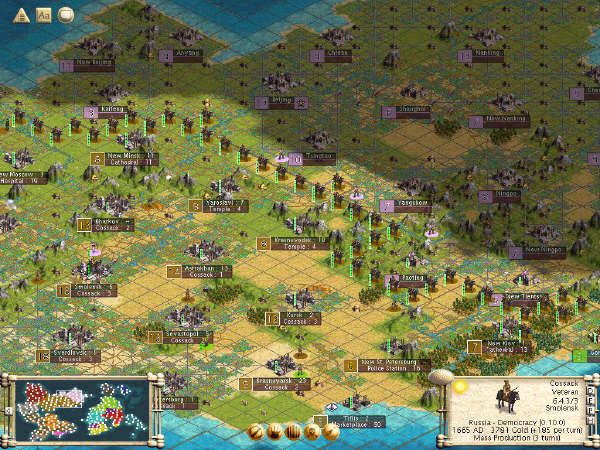 B. Optimal City Placement
1. Optimal City Placement (O.C.P.)
By placing cities in this pattern, they will be maximized for efficiency as far as corruption, distance from capital, and having potential for maximum growth. There are 0 tiles unused, and a maximum of 2 tiles/city that overlap with another city. The two tile overlap may prevent a city from reaching size 40, but 30-35 is large enough in this game! The pattern is easy to remember, once you have your cities set to the east and west (imagine the top of your screen is north). Once you have the cities placed to the east and west set, then you just need to build 5 tiles away either northwest or south east from each city.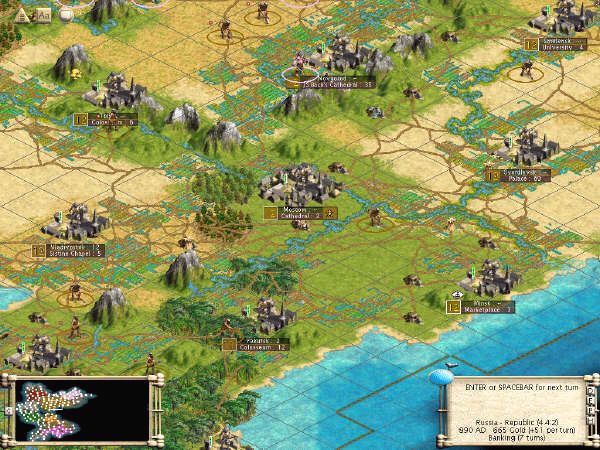 2. Three rings of O.C.P.!
By continuing the pattern, you can make more 'rings' of cities around your capital. Two rings is ideal, because all of those cities are less than 10 tiles from your capital which results in very little corruption. This was on a huge map and I got several settlers from goody huts, so I was able to pull off a 3 ring placement (a chinese city to the north is preventing me from placing 1 more city there to complete the perfect ring, also of course is the sea).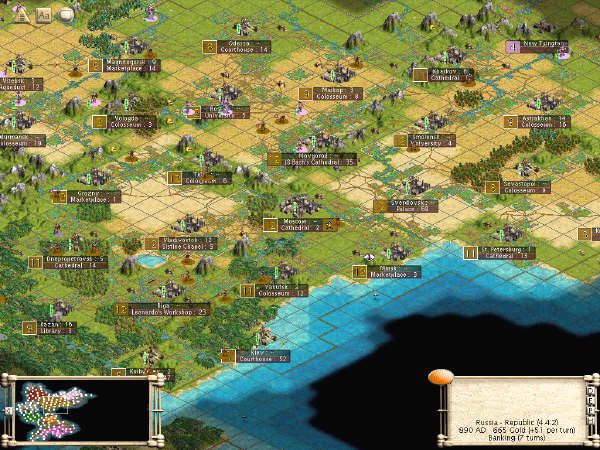 3. City Powerhouses
When you reach the Industrial Ages, these cities now show their awesome production capabilities (after you have hospitals, factories, and hydro plants in all your cities). Even on a 5 billion year map (great for lots of food, but low on production), almost all of these cities are able to pump out cossacks or infantry in 2 turns. 2-3 turns for tanks. Will get even better after I have all the land fully developed and all cities at 20+ population. And with all the money coming in from the citizens plus selling techs to other civs, we can support a GIGANTIC military!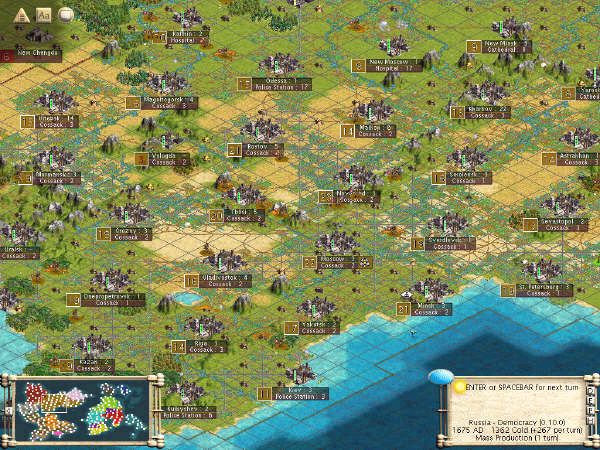 4. Bad City Layout
Although China has a large chunk of territory, it is not very efficient. Almost all the cities to the east and southeast are far from the capital, thus is experiencing much corruption. China better hope it has a forbidden palace somewhere in the east. The Chinese only has one source of Iron (colony), so that is an easy target. The capital should be easy to take since we won't have to go through many cities before reaching it.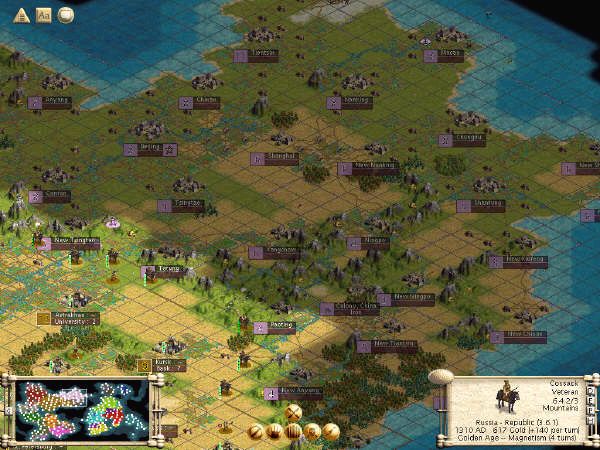 5. Building Wonders
By having many powerhouse cities you can have three (or more) cities building wonders at the same time. I could also have a fourth city building a Palace, that I will change production when I have a new wonder available. This is a great way to beat the AI to several (if not all) of the Great Wonders.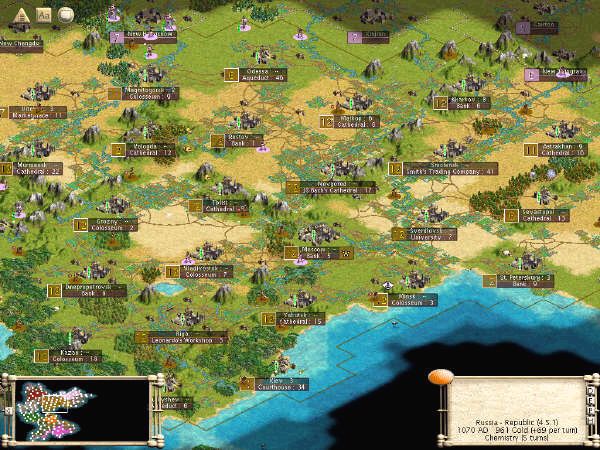 6. Problems with O.C.P
Occasionally mountains and water squares will prevent you from placing cities in the continual pattern. In this case, the city in the center, and the one to the west had to be placed one square over because of mountains. Hey, Firaxis! Denver is in the mountains, why can't I build my cities there? HaHa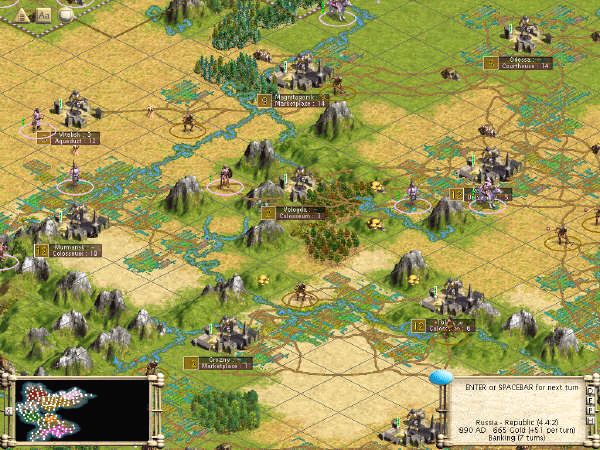 C. Trade, Diplomacy, etc
1. Alliances
France was foolish enough to declare war on me and my Russian people. By selling a tech I was able to get all the other civs in an alliance against the evil French. Sometimes even a Right of Passage (ROP) is enough to sway a civ to join an alliance. Since everyone is at war, this slows down their expansion and research, because they are spending (time, money, shields) on military units to fight the French. But not me, I am staying at home, because France is at the very south end of the continent, far from me, so I won't lose any units in the war. Also, since my neighbors have a large chunk of their military on the opposite side of the continent their homeland is less defended if I choose to attack. Note: everyone is mad at me, because I backed out of alliance against Germany, just to show you all civs at war against France. Realistically, I wouldn't bother having the reputation blow by signing peace with Germany until I can end the alliances.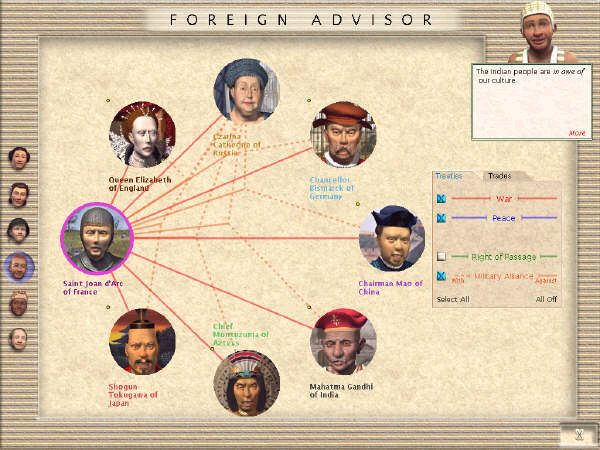 2. Luxuries via trade!
By selling a tech to all the other civs on the same turn I was able to acquire all 8 luxuries, in combination with a marketplace I have a very happy city (Non-stop 'We Love the King Days'!).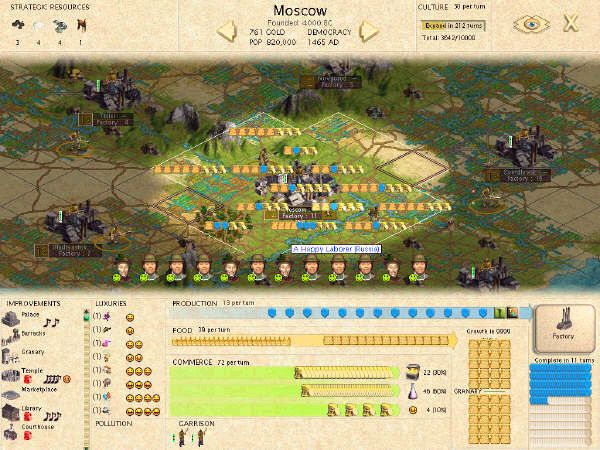 3. Trade Techs for Tons of Cash!
The Greeks are a very rich civ in this game. Currently I am making 402 gold/turn plus 2 luxuries from techs I have sold them. This was from v1.17f, which is notorious for the AI not giving you anything for your techs. If you can get a tech lead on the top AI civ, and sell a tech (not a dead-end tech) to him first you can rake in tons of cash. Make sure you also sell that tech to all the other civs also on the same turn so Greece can't make most, if not all of his money back by selling the tech himself. I was raking in over 1500 gold per turn from all the other civs, so I could set my science rate to 100% and still make several hundred gold/turn, and have all 8 luxuries! If you are playing with v1.16f, the AI does a sneaky trick by trading with each other while it is still your turn, in this case, make sure you sell to the richest civ first.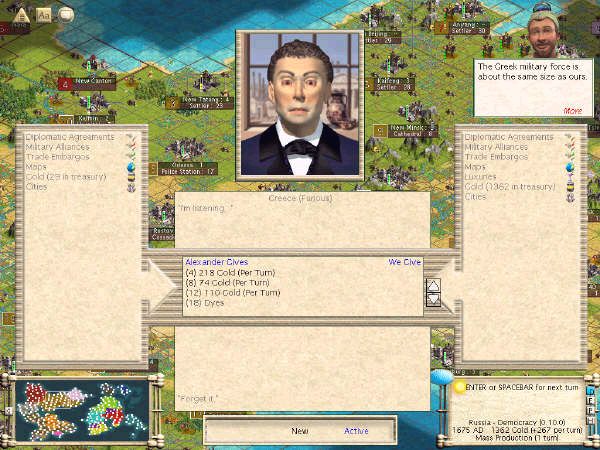 4. Resources for Luxuries
Since England was far from me, I didn't worry about supplying her with Iron. By the time I would invade her, I would have tanks. So in the meantime, I would get a luxury to keep my people happier. Note: I think this trade went on for something like 1500 years.