Awards from the Civilization Community
---
Pride of the World Award
Civilization Fanatics' Center is the proud recipient of the Hodadian Award Central's Pride of the World Award for April, 2000!
Leonardo's Workshop Award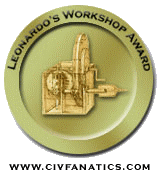 "Nominated by Håkan Eriksson , Thunderfall and the team at Civfanatics has maintained one of the finest, diverse Civilization II website I've ever seen. It is updated regularly and contains recent news, updates, polls, and downloads of many different kinds. It is truly a "Civ Fanatics" refuge. If you value civ as much or more than your life, Civfanatics is probably the site for you. The forum has been upgraded by the request of visitors and the site is guided by players from around the world. Truly, CivFanatics.com has made even this Hall of Fame possible. Thunderfall has led the team in maintaining Civilization entertainment and enthusiasm. Good job, Thunderfall and Crew!"
Silver Fleece Medal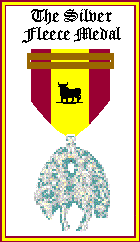 Thunderfall: Mar/Apr 2001 Medal Winner
John Valdez: May/June 2001 Medal Winner
"Congrats, you've been awarded the Silver Fleece Medal! As you may know, the Silver Fleece Medal is an award created by the staff at the Spanish Civ Site to distinguish those who have made outstanding contributions to the Civ2 community. You have gotten this medal well deserved!"
Other Awards
---
An Open Directory Cool Site
"This is to inform you that the website www.civfanatics.com has been designated a Cool Site in the Netscape Open Directory Games/Video_Games/Strategy/Turn-Based/Civilization_Series/Civilization_III

Your site has been awarded on the Open Directory Project's DMOZ web directory. The reason for the award is the clean outlook design, good quality content and a generally active community for Civ III players. Do remember that this award is awarded especially for the Civilization III Fanatics' Center section of CFC. " — December 10, 2002
Golden Web Award (2001-2002)
In recognition of creativity, integrity and excellence on the Web.
"Congratulations! Your web-site has been reviewed and chosen to bear the prestigious 2001-2002 Golden Web Award." — International Association of Web Masters and Designers