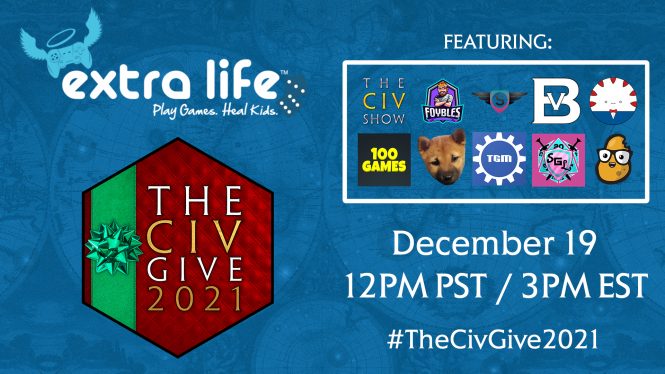 It is happening today! The final of TheCivGive2021! All the streamers listed in the picture banded together to raise $50 000 to support children's hospitals. Currently the count is at more than $18 000, and 2K themselves, the publisher of the Civilization series, has pledged to match up to $25 000. So we need to raise less than $7000, so donate now, and support a good cause!
The stream happens on December 19, 12 PM pacific time, 3 PM east coast time, 9 PM central European time. You can find all the live streams here: https://www.multitwitch.tv/thecivshow/boesthius/thegamemechanic/potatomcwhiskey/sassygamerlady/100games100days/peppermint_butler/razingzozo/onspottv/vanbradley/foybles .
A variety of guests will be online too, including the former community manager Kevin Schulz, as well as Ed Beach and Dennis Shirk from the development team. You can find the whole list and the time when they come online here. CFC will also be present, we will be joining everyone else at 16:45 east coast time for a small chat. And we hope our community will join us too ;).