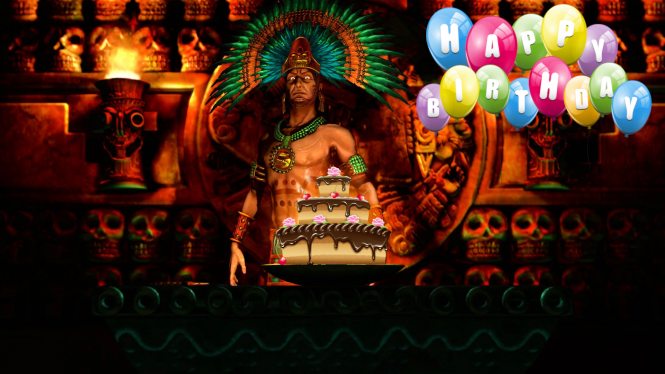 Civilization's 30th birthday: Give Civ a present, get one back!
To celebrate the 30th birthday of Civilization, we are holding a contest: Give Civ a present, get one back!
How would you do this?
We are looking for any form of art, created for Civilization! Have you ever drawn something inspired by Civ? Made a sculpture? A lego set? Made a civ-themed party? A civ-themed photo of yourself? You can also show us your civ-love with a custom made video, a song or a poem (as video/audio)! Anything which qualifies as creative and nice is welcome!

There are three ways to win!
The top three (3) "best entries" as determined by the CFC Moderators and Staff will each receive a 30€ Civ merchandise package and a copy of "Old World" sponsored by Mohawk Games (because Soren loves Civ as much as you do)
1 poetry/prose prize for "Civilization in 200 words or less", copies of the Civilization 4 deluxe boxed set and Civilization Beyond the Sword expansion (for Windows) donated by one of our moderators (we even give up Civ for you!). To enter this part of the contest you need to submit something in writing and in English. Entries must be 200 words or less and can characterize any aspect of your Civ experience in any or all of the Civ games. Tell us a story, your story. Write prose, haiku, limerick or verse; write I or VI; make them long or even terse.
Once the Best Entry and poetry/prose prize winners have been chosen, all remaining entries will go into a random drawing and three (3) winners will each receive a recent copy of Civilization [winners may choose one game for themself; options are Civilization 4: Complete Edition, Civilization: Beyond Earth – The Collection, Civilization 5 (base game) or Civilization 6 (base game)]
Details for the contest:
The entries must be submitted during Civ's 30th birthday, September 2021, and should not have been widely published before. We will accept any submissions which can reasonably be argued to be submitted during September 2021
Entries must be submitted to this thread, or via Twitter to civfanatics. Entries from Twitter will be re-posted in this thread.
To qualify for any merchandise package or the poetry/prose prize, we must be able to ship it to you via post
To redeem the Old World copy, you must have an account at the Epic Games Store
To redeem the Civilization copy, you must have a Steam account
The judgement of best entry will be done by the Civfanatics moderators and Staff, and cannot be contested
Only one prize per user.
We reserve the right to disqualify any entries for any reason
no purchase necessary
Winners will be notified within 2 weeks of the close of the contest.

Details for this thread:
We do encourage discussions about the entries. If you want to comment on an entry, please quote the respective entry, because anything what is not a contest-entry will be moved to a separate discussion thread.